Comparison of water ionizers with the addition of salt AquaVolta® ECA Water Tractor vs. Kangen Enagic SD 501
Modern water ionizers, in contrast to the Kangen Enagic Leveluk water ionizers, have:
a detailed flow display of the water currently flowing through in liters/minute
have a flow sensor, which is why the production of bass water starts as soon as water flows through the water ionizer
External or integrated flow regulating valve to adjust the flow once to the tap water after installation, because every water is different in how well it can be ionized
have more installation options, among others Fixed water installation as with a table water system: on the tap, firmly connected to the cold water pipe with a supplied T-piece or even under the sink (EOS Revelation under-table ionizer)
have the latest and most sophisticated limescale protection functions, so that a Descaling is only necessary every 3-12 months
The only thing that other water ionizers don't have is the salt addition function. Exception: AquaVolta® ECA Water Tractor
Improvements in water filtration
While the older ECA-capable water ionizers only had a built-in pre-filter, the AquaVolta® ECA Tractor a second, which passes the water that has already been pre-filtered with activated carbon through a hollow fiber membrane presses, which can remove pollutants of smaller diameters.
So are both chemical and biological Drinking water problems were solved before electrolysis and heavy metals were also retained better.
Improved connectivity
A defect in the devices complained about by many consumers EnagicTM was the unaesthetic connection option about a clunky diverter aerator that makes a mockery of any modern kitchen design.
The AquaVolta® ECA Tractor However, like most of today's household water ionizers, it can be professionally enclosed under the table with a T-piece on the cold water angle valve. The Leveluk® SD 501 does not have its own water valve and does not offer this option.
More safety through separate electrolysis processes
The Kangen Enagic Leveluk® SD 501 has 7 electrodes and a transformer power supply. This means that both the drinking water and the ECA water are treated electrolytically.
The AquaVolta® ECA Tractor separates the production of different types of water in order to adapt the respective electrolysis unit to its function and thus extend its shelf life.
It has two electrolysis cells, each with 5 and 7 electrodes, which are powered by a modern switching power supply that does not generate a lot of waste heat or magnetic "smog". Also the This means that power consumption is significantly lower. So that children in particular do not accidentally drink functional water, the alkaline active drinking water and the functional water flow from different outlets.
In addition to the second pre-filter, this is a crucial safety advantage of the new device.
Better measurements (ph, redox/ORP, dissolved molecular hydrogen)
We compared the performance of the two ECA devices available on the market on tap water from the Munich municipal utility. The Kangen Leveluk® SD 501 is there AquaVolta® ECA Tractor in all measured parameters (pH value, redox potential, dissolved hydrogen) significantly inferior when it comes to drinking water treatment.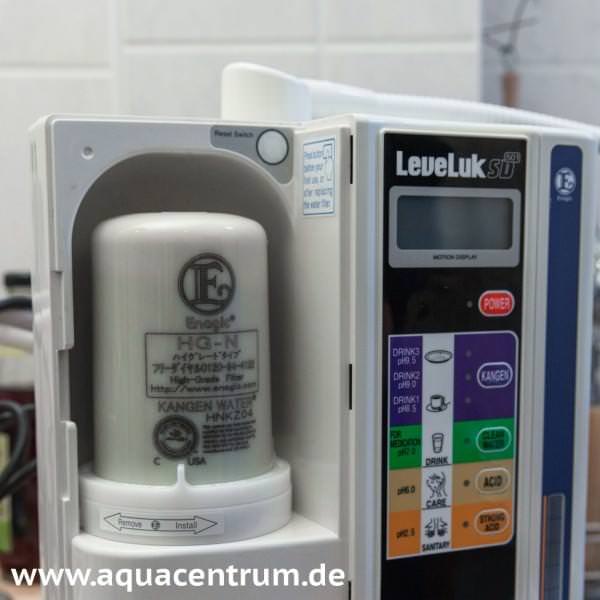 Leveluk
®
SD 501 Use as a drinking water ionizer with the lowest possible flow (approx. 1,0 liters / min input water) and the highest electrolysis level:
ppH 9,45
Redox potential: -434 mV (CSE)
dissolved hydrogen: 872 ppb (0,872 ppm)
The ECA mode of the Kangen Leveluk® SD 501 is not listed here due to the lack of flow display and the unreliable mechanical dosing pump, as it cannot be used safely in this function.
AquaVolta® ECA Tractor Use as a drinking water ionizer with a flow of 1,5 l/min. (can be reduced to 1,0 L/min!!) and highest electrolysis level:
pH 10,9
Redox potential: -737 mV (CSE)
dissolved hydrogen: 1594 ppb (1,594 ppm)
Even in ECA mode, the AquaVolta® ECA Tractor delivers outstanding test values ​​for Munich tap water
Anolyte: pH 2,4 redox potential + 1076 mV (CSE)
Catholyte: pH 11.8 Redox potential -808 mV (CSE) dissolved hydrogen: 1720 ppb (1,72 ppm)
Cheaper price of the ECA Tractor compared to the Kangen Enagic
The Leveluk® SD 501 and the AquaVolta® ECA Tractor are difficult to compare in price because the Leveluk® SD 501 not publicly available dealer, but is sold via a multi-level marketing system.
Anyone who buys such a device automatically becomes a distributor has the opportunity to recoup part of the very high purchase price in the form of a commission by recruiting additional customers get.
Nevertheless, the price of the Kangen device known from the Internet in Germany is €3.308 including VAT. and must first to EnagicTM Europe, unless part of it is reimbursed by the agent.
The Selling price of the ECA Water Tractors is currently €2270 including 19% VAT.
Since this device is offered through us as a wholesaler, there is as currently occasional promotional offers or discounts.
Video | Enagic Network Marketing Compensation Plan
Humbug about ECA water | Catholyte and anolyte
The statements that Anolyt as a disinfectant eliminates 99,9 percent of all germs within a few minutes of exposure are true scientifically well proven. The statements that are spread about Katholyt, on the other hand, are sometimes grotesque. This applies in particular to the statement that often appears at sales events and websites that Katholyt would do so because of its... Fat-dissolving properties above pH 11 when washing food dissolve pesticides, for example on the peels of Tomatoes are located. At sales events for so-called Kangen water® – Devices from EnagicTM Pictures of tomatoes are often shown which are in Catholyte can be inserted. The water soon turns carrot yellow. The sellers explain this as follows: The The agricultural toxins that are used to grow tomatoes and that are in the peel would be removed.
In fact, it is not toxins, but "good substances" that are released from the tomato peel, as the comparison below shows. One A tomato grown conventionally with pesticides and a tomato from organic farming become one hour at the same time long soaked in catholyte from a Kangenwasser device. The discoloration of the water, which is supposedly caused by toxins, is the case Organic tomato that is certified not to have been treated with pesticides, even a little stronger. What happened? The tomato pigment is the carotenoid lycopene, one of the best antioxidants there is because it is produced by the Cooking does not destroy antioxidants like other antioxidants. Since lycopene is fat-soluble, it is extracted from the tomato and with it Alleged decontamination water was thrown away.
In contrast, an apple grown conventionally with pesticides does not discolor the catholyte at all because it does not contain any fat-soluble ones Has substances in the shell.
The situation is similar with fat-soluble vitamins in the peels of other fruits, which should under no circumstances be placed in catholyte. For pickling other foods, however, alkaline activated water with a pH value between pH 9 and 11 makes sense because it has a very high hydrogen content, which is due to the pickling of the pickled foods (e.g. eggs, vegetables, salad, fruit) can be transferred well within 10 – 30 minutes and thereby freshens it up. But you don't need an ECA device for this, just a normal water ionizer.
AquaVolta® ECA Tractor | Molecular hydrogen test
By far the highest content of molecularly dissolved hydrogen (hydrogen gas)
The multifunctional water ionizer AquaVolta® ECA Water Tractor can be used both for drinking water treatment and as a functional water generator for producing anolyte and catholyte.
This dual function, which is provided by the Kangen water devices from Enagic became known, is made possible by a switchable salt tank.
But it is also possible to produce alkaline active water without the salt tank.
The revolutionary electrodes with a 5-layer layer of platinum and polymer insulators enable the ECA plus, which is exclusively available in Europe at the Aquacentrum, to achieve a yield of dissolved molecular hydrogen that is so far unsurpassed and far eclipses competing devices.
The film shows the measurement of 2,5 ppm dH2 (dissolved hydrogen) mittels H2 Blue Kit® drops (25 drops decolorized in 6 ml cup).
Anolyte applications
Disinfect dishcloths, cutting boards, knives, pots, pans, refrigerators and other kitchen utensils that contain germs Come into contact with Anolyte.
Blemished skin
Mouthwash
As a deodorant spray
Disinfection of surfaces
Disinfection of drinking water systems and swimming pools
Disinfect meat, fish and eggs Bathroom cleaning Anolyt is environmentally friendly Fighting bacteria, viruses and fungi on food. It usually happens within 5 minutes Sterility created. Then refresh the food longer soaking in alkaline active water.
Why "bigger" isn't always better
The main argument of Kangen sellers is that the larger the electrode areas of the electrolysis water cells, the stronger the ionization performance. The sellers suggest that the Kangenionizer has particularly large electrode surfaces. However, the responsible customer can read and learn from the manufacturer himself that the cell areas of the Kangen Leveluk Enagic SD501 (Platinum) are just 708 cm² and therefore the electrode areas are no larger than the other standard ionizers. For example, they have AquaVolta®Cavendish or the EOS water ionizer 9 electrodes with a total of 1336 cm² on the EOS water ionizers.
The number of electrodes and the electrode area per electrode define the size of the electrode areas. And with standard water ionizers these are 5 electrode plates, with Kangen there are now 7 electrode plates. However, the water ionizers mentioned above even have 9 electrode plates, making them even more potent water ionizers. This is particularly evident in the achievable values dissolved molecular hydrogen.
The Kangen Enagic Leveluk water cell itself, in which the electrodes are installed, is not small, as it was laboriously assembled with many screw connections and a large frame.
The electrodes themselves, like most other water ionizers, are about 60mm x 40mm in size. Each electrode, except the external electrodes, forms two surfaces.
Technology is getting smaller and smaller!
Can you think of a technological achievement that has become greater as it has evolved? Just think of cell phones, laptops, PCs, etc. The Korean water ionizers are very compact thanks to the use of the latest technology and are much lighter and more economical due to the lack of a transformer.
Since it is technically feasible and the costs are manageable, the newer water ionizer models are equipped with 7 or even 9 electrodes. But theoretically only 5 electrodes would be enough to produce strong pH values ​​and redox potentials, as long as the electrodes, i.e. the motor of the water ionizer, do not calcify the electrolytic cell every 2 weeks and you are never sure whether the desired values ​​are even being produced and the flow is reduced to the minimum of approximately 1 liter/minute:
Kangen Enagic Leveluk water ionizers do not have an adequate descaling function
After short use the electrode surfaces of the Kangen Leveluk SD 501 become calcified, so that after a short time large parts of the electrode surface fail to ionize due to calcification and the performance drops drastically after just a few weeks, as the Kangen Leveluk Engagic SD501 lacks an automatic polarity reversal due to the outdated technology.
The descaling function in the Kangen systems is self-cleaning, as is the case with standard water ionizers. This takes place approximately every 15 liters before the respective tapping process and takes around 20 seconds. This descaling and self-cleaning function with only a short-term polarity reversal for a few seconds has not proven successful in lime-rich practice in Germany. For this reason, the values ​​of most water ionizers steadily decrease after the first few weeks after descaling.
Due to the lack of an automatic descaling system that works in practice, we recommend that you descale the Kangen Enagic approximately every 2 to weeks if the water contains hard water.
Korean water ionizer was swapped for a Kangen after trying it out
Another argument from Kangen Leveluk sellers is that many water ionizer owners are allegedly dissatisfied with devices from all other manufacturers except the Leveluk device (allegedly) and have exchanged them for a Leveluk Kangen Enagic SD501.
As an independent distributor of a wide variety of ionizers, we can assure you that despite our > 6-month right of return, which we grant to all customers, no customer has ever returned their ionizer to exchange it for a Kangen Enagic Leveluk SD 501, which we also offer you used.
If you ever have one Test Leveluk Kangen Enagic SD 501 water ionizer If you would like, we can provide you with one for testing. But we also hold many other ionizers to test Ready for you.
The best way to do this is to contact us at Telephone number +49 (0) 89 – 41611799-7to request a trial period that does not oblige you to purchase.
Numbers, data and facts Kangen water and Kangen Enagic Leveluk SD 501
Please pay a little attention to the following facts to understand the topic:
Experts do not recommend drinking water with pH values ​​above 9,5 - There are experts such as Dr. Theodore Baroody (author of "Alkalize or Die"), Dr. Robert O. Young (The pH Miracle), the author Sang Wang (Reverse Aging), who died in 2011, and the independent experts from the Korean FDA and the Japanese Ministry of Health (see > Well-known drinkers of ionized water celebrities)
The therapists we work with also do not recommend excessively high pH values ​​beyond pH 9,5!
Rocking therapy involves drinking extremely acidic and extremely alkaline pH values ​​several times a day for a short period of time, but always only in very small amounts and in the company of a specialized therapist such as: Dieter Mannl. You can find out more about rocking therapy in this article from "Raum & Zeit". experience.
However, we are of the opinion that an environmental balance can only be achieved through slow and long-term deacidification using ionized water and a change in diet. That's why we offer our > 6 month satisfaction guarantee!
Naturally occurring alkaline and ionized water generally has neither a pH value above 9 nor an artificially high ORP value in the negative mV range. We know this from studying healing springs such as those in Nordenau, Hungary and from studying the inhabitants of the Valley of Longevity in Vilcabamba, Ecuador.
Over 9 out of 10 alkaline ionized water drinkers surveyed said that they do not drink water with a pH above pH 9,5 - the taste is already atypical than the typically fresh taste of alkaline active water at a pH of pH 9 to pH 9,5 ,XNUMX.
In our "water workshop" that has now existed for over 25 years (as of June 30.06.2013, 18), our practical tests in direct comparison under the same calcareous (approx. °dH2000) conditions and minimum flow of the inlet water have shown that the Kangen Enagic, the Aquion Premium 3000, the Aquion 10,5, the Allsbon ionizer Dion Special & Dion Family, the Nexus Only the red/ox potential (ORP) was a little higher for the Aquion Premium 10,8 and Aquion Premium 2000 and was around -3000mV. The redox value of the Nexus After the author and researcher, Karl Heinz Asenbaum, was able to measure the hydrogen levels dissolved in the water using a measuring device, the latest finding is that the 350 electrode devices like the EOS Genesis, the EOS Revelation and the EOS Touch reach and even exceed the saturation limit of dissolved hydrogen in water. We are therefore a big fan of 9 electrode water ionizers because the goal is to dissolve as much hydrogen as possible in the water. (As of December 2015
The winner of all water ionizers was despite its large electrode area of ​​1700 not the Titanion SE Ultra. The measured values ​​were determined using a professional, freshly calibrated device from a laboratory.
The Kangen Leveluk Enagic only achieves values ​​such as -800 mV or pH values ​​above 10,5 by artificially adding a salt solution that also contains sodium hypochlorite. This is done through the compartment on the right side of the device.
Further counterarguments against the speculative seller statements from Kangen Enagic sales partners
The hardly drinkable and strange taste of the alkaline water above pH 11 and, above all, the strong chlorine smell of the hypochlorite-containing, oxidative water in the acidic wastewater will definitely stop you from using this function. It is explicitly stated in the operating instructions that this function may only be used in well-ventilated rooms! Dangerous and explosive gases can be produced!
The only advantage of the Kangen is that by adding salt it can produce very acidic, disinfecting, but very strongly chlorine-smelling acidic water (pH3 to pH3,5), which you could use if you want to treat skin diseases or have other areas where where you want an environmentally friendly disinfectant. In addition, a very strongly alkaline water with around pH11,5 to pH12 is created.
However, we recommend that you do not experiment with the strongly alkaline and strongly acidic water yourself, but rather have us send you these waters or just neutral, disinfecting water in a 6 liter or 1 liter bottle every 2 months. We would give you the first bottle as a gift when you purchase the water ionizer, and you would then receive all additional bottles for a special price of only 9,70 euros / liter. You can find out why the neutral, disinfecting water from an industrial ionizer is better and doesn't smell so much of chlorine and doesn't attack the respiratory tract and textiles on the website www.neutralanolyt.de.
One of the largest manufacturers, for example, Emco Tech or Ionia, has developed very efficient cells that exceed the performance of flat bed electrodes (flat electrodes). Take a look at the US EPA certified laboratory test, which compares different ionizer brands/manufacturers. The > Aquavolta Moses 7, for example, is one of the most modern devices from this major manufacturer Ionia. The size of the electrolysis panels is about the same size as many ionizers and is around 650 cm2.
Higher wattages and more plates do not always ensure better results than the technologically advanced water cells of the Aquion, Allsbon, Nexus and Tyent water ionizers. The automatic polarity reversal of the electrodes in the water ionizers mentioned ensure long-term, uniform ionization without a drop in ionization performance due to calcification of the electrode surfaces.
More energy creates greater stress on the plates. More energy means more heat, which means the platinum coating on the electrode corrodes faster. In addition, there are regular descaling cycles with citric acid. This translates into poor performance and short cell lifespan.
More cells and larger plates lead to increased electromagnetic field radiation, heat, increased power consumption and increased electrode plate wear (corrosion).
Larger cells also mean you get an oversized and heavy water ionizer. Please always check the dimensions before purchasing a water ionizer. It should also be able to be quickly taken to a party as a table water system and provide water catering services.
What should we focus on if not larger cells or the number of plates?
Both installation variants, fixed installation or installation on the tap should be possible
A flow regulator on the device is very important in daily use if you have installed the water ionizer on the tap, which around 80% of customers implement. You can see this very well in the following video: www.aquacentrum.de/installation-wasserfilter/
Automatic descaling including reversing the polarity of the electrodes after each use of water. With medium-hard water up to °dH 14, the Kangen would need to be decalcified every two to four weeks so that it continues to achieve strongly alkaline values ​​above pH9.
Last but not least, the price. You can buy two modern water ionizers for the price of one Kangen Enagic Leveluk SD 501, there is definitely someone in the family who would like to receive one of the most modern devices from you as a gift.
How free is your alkaline ionized water from contamination or pollutants? The "bigger is better" discussion completely ignores the important aspect of tap water filtration. The pollutants in the tap water that are added on the way from the waterworks to your home are sometimes not insignificant. Filtration is therefore recommended in any case. This is very easy these days with activated carbon filtration!
A reverse osmosis system also usually filters first with 2 activated carbon filters, as the membrane is only permitted for mineral salts, i.e. not pollutants. However, we can reassure you on this point: All water ionizers have at least one integrated activated carbon filter, which has the same structure in almost all ionizers and is mainly filled with the filter medium activated carbon and filter fleeces. > Here is a very affordable water filter analysis option