You will receive 5 breathing goggles, 5 liters of BIDEST water & 2 x H2 Turbo Booster free of charge when you purchase this hydrogen inhaler:
AquaVolta® hydrogen infuser to make H2 drinks & hydrogen inhaler to breathe H2 gas
Drink hydrogen water | Breathe hydrogen gas
The AquaVolta® H2 inhaler & hydrogen infuser for drinks 100 ml H2 /minute for inhalation or for making hydrogen-rich drinks. With the associated hydrogen swirler you can produce fully saturated hydrogen water in 90 seconds (1,6 mg/l). The water vortex makes it possible. Hydrogen boosters need at least 600 seconds for this!
Since the hydrogen drink produced does not come into contact with electricity or electrodes, other drinks such as juices, milk and soups can also be enriched with hydrogen in just a few seconds.
Inhaling 100 ml/minute (1/3 inhale - 1/3 pause - 1/3 exhale) creates one liter of pure hydrogen energy into your body within 30 minutes. This is the real power nap, whether in the office, watching TV or sleeping. Hydrogen inhalation and drinking hydrogen-rich water has been the megatrend in the Far Eastern and US healthcare industries since 2016.
H2 inhaler & H2 vortex booster for drink activation
Overview
Switch sensor
Function check window
Tank cap of the double distilled water refill tank
Hydrogen outlet nozzle with cap
Valve for O2 outlet
Connection socket for H2 water swirlers
Socket for power plug
The hydrogen infuser module
The swirler bottle is connected to the hydrogen generator at the H2 outlet via a hose.
The power for the swirler is supplied via a USB connection cable and an external power source.
This allows saturated hydrogen drinks (not just water) to be produced in a very short time.
You can also add hydrogen gas to other liquids. Pretty much anything liquid can be converted into a powerful antioxidant drink. The possibilities are nearly unlimited. Juices, hot drinks and even soups can be transformed this way. No other device can do this.
A battery-operated drinks and smoothie mixer specially developed for the inhaler is in development and will be available in 2020
AquaVolta® hydrogen inhaler has a new swirl bottle
Unpacking | AquaVolta® Hydrogen Infuser & H2 Inhaler
Proof of hydrogen production: 100ml/min
Inhalation preparations
Insert the short, curved hose of the water collector into the open H2 outlet
Attach the end of the nasal cannula firmly to the second outlet of the water collector.
Tighten the nasal cannula at the back of the head.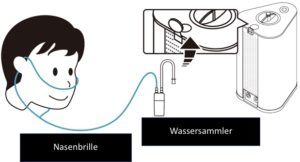 Inhalation operation
A short press on the sensor button starts the release of hydrogen into the nasal cannula. The sensor lights up blue. To stop, press again. The device stops automatically after two hours. So you can work, watch TV, play cards and even sleep at the same time. If there is too little water in the device, it will beep and show a red LED light. Then it's time to add double distilled water to the water tank.
How does H2 work as a therapeutic gas?
Science doesn't actually know all the details yet. However, the consequences of using it in basic studies are largely known. And a billion-dollar industry in the Far East has already ensured that people don't wait until decades of human studies prove 100% effectiveness. You're already relying on what's likely to come out of it.
From today's perspective, one can perhaps state quite soberly that H2 as a therapeutic gas is the most interesting of all medical gases for various reasons. Essentially, it reduces oxidative stress and inflammation, the cause of over 150 of the most common medical conditions. From a current perspective, however, it does not protect against bacterial and viral infections. However, oxidative stress and inflammation are undoubtedly two of the most fundamental mechanisms for destroying human health, especially as people age and their typical diseases arise. Molecular hydrogen has been shown to be effective in essentially every organ of the human body because it helps mitigate the area of ​​oxidative stress and inflammation.
Less hydroxyl radicals, which are the most dangerous in our body, what does that mean? If you look at the other free radicals, such as nitric oxide (NO), this is a very beneficial important free radical because it can dilate blood vessels and therefore helps reduce blood pressure.
Nobody wants to neutralize NO with an antioxidant! In addition, our immune system uses other oxidants such as hydrogen peroxide, none of which should be cleaned away unless they overshoot. But our body's own antioxidants are very reliable at taming them.
The peroxynitrite anion, which is very damaging to cells, also obviously decreases through treatment with hydrogen gas. Do we have to wait until every last doctor knows why this is the case? The doctor treating you has, on average, studied medicine 20 years ago and may have never learned about the mechanisms of NO or peroxynitrite during their training or further education.
Normal antioxidants are not selective. They donate their electrons to comparatively weak oxidants. Molecular hydrogen, on the other hand, only reacts selectively to super-strong oxidants that cannot be dealt with by the body's other antioxidants.
Hydrogen helps bring everything back to homeostasis.
This is why hydrogen is so difficult to study, because when you give molecular hydrogen to a cell or animal, you often don't see any changes. When everything is already perfect, everything is already in homeostasis, you don't see any changes. Hydrogen often requires you to administer some type of toxin, and you see how hydrogen reduces, rescues, or mitigates the effects of this problem caused by toxins.
Inhalation: quantity/duration
The machine should produce 100ml of hydrogen gas per minute to be used as a normal inhaler. Anything less than that would require you to sit still for too long to receive therapeutic benefits.
Hydrogen gas machines pump a controlled amount of H2 antioxidant gas into the hose line that you connect to the machine. Here are some possible uses:
Breathe in H2 antioxidants while sitting or lying down.
Make any water rich in hydrogen antioxidants.
Make other solutions, such as Body washes, juices or even soups in antioxidant solutions.
The faster the flow rate, the less time you have to (or should) breathe in at the same time.
The body needs balance, and while inhaling hydrogen gas is of course wonderfully therapeutic, it is not the case when you imbalance other needed gases in your body.
Look for a hydrogen gas generator that has a final stage drying filter that the gas passes through. This is important and I can't think of a hydrogen gas inhaler that doesn't have this final filter. The reason for this is that if you breathe in for longer than 5 minutes, you would inhale too much moisture without this filter. It wouldn't be particularly healthy to do so to defeat the intended purpose.
When comparing inhalation models, it should also be noted that not all of the gas coming out of a machine is consumed, as a breathing cycle generally:
1 third inhale
1 third exhale
a third is rest
Hydrogen gas generators can be used any time you are relaxing or sitting still. They are scientifically designed to pump high levels of antioxidants into a thin plastic tube (called a cannula) that you would normally inhale while sitting or lying down.